W'apɔw mu ɛ?
This morning we got up had our Saturday morning special, Cocoa and Toast, and then headed up to the church for Saturday Workday.
We had a great turnout for the workday with over twenty people there to help.  We got so much accomplished.  We mowed the lawn, cleaned the windows and doors, dusted every room, scrubbed the floors, painted the bathrooms, hung some new gates, and just had a good time of fellowship.
I went to town and bought everyone a plate of rice and fried chicken. We got so much done and everyone had a great time at workday. It is so fun when we can all work together with such a good attitude.
We are so excited about tomorrow! We are going to have a Sunrise Service at 7:00 and then Sunday School at 8:00 and another morning service at 9:00. Then we are all going to go home and then we are going to meet back at the church at 12:00 for dinner on the grounds and then at 2:00 we are going to have another service. After that we are going to crawl home and hibernate. This is the hottest time of year.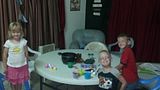 The kids had great fun coloring eggs for their Easter baskets.  We usually wait and do our Easter Egg hunt on Monday.  We are so tired on Sunday that we would not be able to enjoy it.  On Easter Monday here in Ghana there are so many deaths due to car accidents that we try to stay off the roads on that day.  We just try to stay home and enjoy some family time.
We need some questions for Joe's Podcast!  If you think of a question just call our voice mail number (936) 553-5234 and leave your question as a voice mail.   On that note, have you listened to Missionary on Fire this week?  These interviews have been so much fun and I believe they will help someone get stirred up to do something for missions with their life.  Make sure you tell your friends about these interviews.  It could change their life!
Laura got too hot today. She does not handle this heat very well!
Nantsew yie!
Joe, Laura, Gilbert, Danny, and Bonnie