Podcast: Play in new window | Download
This week, Janet Fogleman e-mailed us a question about libraries in Ghana.
 After that, we have a short interview with Janet Fogleman. She is a long-time friend of my wife's family; she has known the Van Manens since before Laura was born. She was born with Cerebral Palsy, but she has never let that stand in her way. She is definitely an overcomer. She will turn 67 next week. She has been the librarian at Oklahoma Baptist College since 1985. They are currently raising funds to build a new multi-purpose building to be used for a library and the music department. They will also be building an apartment for Miss Fogleman.
Please pray about this project. If the Lord lays it on your heart to give toward this project, please contact Windsor Hills Baptist Church at 405-943-3326 or Oklahoma Baptist College at 405-943-3334.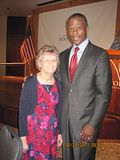 (Miss Janet Fogleman pictured with J.C. Watts at a fundraiser dinner for the building project)
Transcript of phone conversation between Laura Consford and Janet Fogleman
Janet: Hello!
Laura: Hello, Aunt Janet! How are you?
Janet: Um, I'm fine. I just started to listen to your last podcast.
Laura: Oh!
Janet: I finally got …
Laura: Well, tomorrow, Joe is going to ask your question about the library. He thought it would be fun to tell a little bit about you and to tell about the building and the apartment that they are trying to build. Maybe we can help drum up some money for you.
Janet: That would be a blessing.
Laura: I don't know how many people listen to it, but. . .
Janet: We just need one, just the right one.
Laura: Right.
Janet: I hope they get it done before I retire.
Laura: Right.
Laura: Can you tell us a little bit about how you met my parents (Adrian and Bonnie Van Manen)?
Janet: Well, after I graduated from Bible school, I moved to Kansas City, Missouri. And the people I lived with had their kids in Tri-City Christian School. The mother, who was a friend of mine, talked to the principal, who was Jerry Wass. She told him about me, and he hired me to work as his secretary. That was in July, I think, of '73.
And then, it was the next fall, I believe, that your parents came. They came to Kansas City thinking they had a job at another Christian school. But, the Lord brought them to Tri-City. And, I didn't know them really well there. But, then the Wasses and I moved to Springfield. And, it wasn't too long before your parents came down.
We found them a house just four doors down from my apartment. So, your family became my transportation to church. And, pretty soon I was part of the Van Manen family.
Laura: I know that we've known you as long as I can remember, so. . .
Janet: I knew them before you came along.
Laura: Right, I was born in '75; so…
Janet: Well, I remember being in the parking lot at Tri-City. Your mom was driving, I don't know, going home or something. You were in the car, and I got to see you for the first time. I wished when you were little I would have asked your folks if you could call me Aunt Janet because I was closer to you than I am to my nieces and nephews.
Laura: And then, how did you move to Oklahoma City?
Janet: Well, your parents had a big part in that too because in the school where I worked in Springfield, they had a decrease in attendance. They had to let four people go, and I was one of them. By that time, you had come to Oklahoma City, and the Wasses had gone to Festus, Missouri. And so, the principal was going to call. I told him, "I don't know yet what the Lord wants, but I would rather go to Oklahoma." So, he called your dad. Your dad talked to the vice president here. He said, "Sure, we need a librarian; tell her to come."
So, I came in October of '84 and interviewed with him. Then, I moved down here in December of '84, put all my furniture in your house, and went home to see my family for Christmas. Then, I started to work in the library here February 3, 1985.
Laura: Wow!
Janet: I've been here ever since.
Laura: I remember you living in our basement when you first came.
Janet: Ya, I did that summer. Shortly after I came here, I lived with Kathy Whittington (now). When she went home for the summer, and I came and stayed with you. When she came back in the fall, I went back and lived with her until the end of  September when I found my apartment where I am now.
Laura: Can you tell us a little about the building that they are wanting to build?
Janet: Well, we desperately need a new library. We only have fifteen chairs in here, and we can't even really get that many people in here. And some of the books were here before I came. They are very outdated.
So, Pastor has a vision to build a whole new building. Just outside between the college and the school where the old cafeteria was, he wants to build a big building and put a library in there and a music department. Either in the building or outside somewhere, they are going to build an apartment for me. And that is a blessing. I have said that I have worked for the Lord all these years, and when I can't work any more, I am His responsibility. So, I see now how He is going to provide for me.
Laura: Well, that's great! We're excited about it. Do you know how much they are trying to raise?
Janet: I don't know. You might can check with Brother Legere on that.
Laura: Okay.
Janet: I know it is nothing to the Lord. He will give us what He wants us to have.
Laura: That's right.
Janet: It's exciting. We won't have card catalogs. We'll have a computer just like in the public library. I am excited.
Laura: That will be great.
Janet: I just hope they can get it built while I can still work. We just want people to listen to Him when He prompts them to give, and He will bless everyone that will give.
Laura: That's right!
Well, we just wanted to share this with other people so that they can hear what they are trying to do there at Oklahoma Baptist College. It is a very worthy cause. You've been faithful to serve the Lord all these years.
How young are you?
Janet: Next week, I will be 67.
Laura: Sixty-seven years old
And, you were born with cerebral palsy, right?
Janet: That's right, but my parents didn't use that as an excuse. My dad said that he raised me to be independent, and he did too good of a job.
Laura: You're very independent; so, I guess they did a good job.
Janet: They did a good job, but that's what the Lord had for me.
 If you have questions, please fell free to call us at (936) 553-5234 and leave your message as a voice mail. If you have access to a computer with a microphone, you can click on the button on the right side of the screen that says "Send Voicemail" to ask a question. Once you click on that button, just follow the instructions, and the voice mail will be sent to my e-mail. There is also a new option.  If you have an iPhone or an iPad, you can also click on the "Send Voicemail" tab, and you will be asked to download the "Speak Pipe" app.  Once again, just follow the directions on your device, and you will be able to record a voice mail and send it to me via your iPhone or iPad.  Or you can e-mail your question to us at consford@gmail.com, and I will read it as part of the show. We will do our best to answer all of the questions as part of future shows.
Thanks for listening every week!  Have a great week, and God bless!