Podcast: Play in new window | Download
For some reason, this week, we did not have many questions.  So, I was trying to decide what to do when Bonnie started talking about doing her podcast.  So, I let the kids say their memory verses from school.

First, Gilbert quotes John 14:1-6:
1 Let not your heart be troubled: ye believe in God, believe also in me.  2 In my Father's house are many mansions: if it were not so, I would have told you. I go to prepare a place for you.  3 And if I go and prepare a place for you, I will come again, and receive you unto myself; that where I am, there ye may be also. 4 And whither I go ye know, and the way ye know. 5 Thomas saith unto him, Lord, we know not whither thou goest; and how can we know the way?  6 Jesus saith unto him, I am the way, the truth, and the life: no man cometh unto the Father, but by me.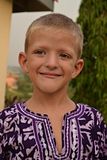 Then, Danny quotes his verses.
Proverbs 3:5-6
5 Trust in the Lord with all thine heart; and lean not unto thine own understanding. 6 In all thy ways acknowledge him, and he shall direct thy paths.
Romans 10:9
9 That if thou shalt confess with thy mouth the Lord Jesus, and shalt believe in thine heart that God hath raised him from the dead, thou shalt be saved.

Bonnie also says two verses.
John 3:16
16 For God so loved the world, that he gave his only begotten Son, that whosoever believeth in him should not perish, but have everlasting life.
Genesis 1:1
1 In the beginning God created the heaven and the earth.
The kids thought that since they said their memory verses that mom should say hers as well.

Laura says her two verses in both English and Fante.
Luke 2:40
And the child grew, and waxed strong in spirit, filled with wisdom: and the grace of God was upon him.
Luke 2:40
Na abofra no nyinii, na ɔhyɛɛ dzen, na nyansa hyɛɛ no mã, na Nyankopɔn adom wɔ no do.
Luke 5v11
And when they had brought their ships to land, they forsook all and followed him.
Luke 5v11
Na wɔdze hɔn ahɛn bodwiir daadze no, wɔdaan ne nyina gyae, na wɔkaa no do.
The one question this week was from my father, Buster Consford.  He asks about the drinking water here, and what we have to do to make our water potable.
Here is a photo of the public water distribution system.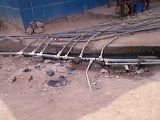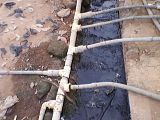 The taps of the main line are made right in an open sewer ditch.
We use gravitational filters, and we have four steps of our filtering process. Our water comes from a well, but the water is not very clean.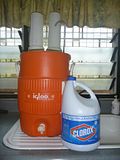 First, we filter the water and treat it with 1/2 teaspoon of bleach.

Then, we filter the water and treat it with 1/2 teaspoon of Hydrogen Peroxide.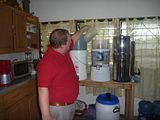 Then, we filter it again.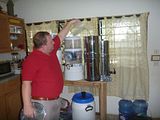 The last step is to filter it through a Berkey filter. We use the black filters. They say you can filter stagnant pond water with these things.
Thanks for listening this week!
If you have questions, please fell free to call us at (936) 553-5234 and leave your message as a voice mail. If you have access to a computer with a microphone, you can click on the button on the right side of the screen that says "Send Voicemail" to ask a question. Once you click on that button, just follow the instructions, and the voicemail will be sent to my e-mail. We will do our best to answer all of the questions as part of future shows.  Or you can e-mail your question to us at consford@gmail.com.